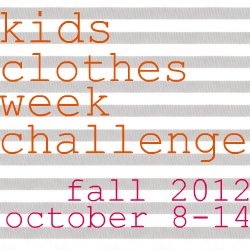 Next week is KCWC! I participated in this event for the first time this past spring and made 3 dresses (one was an old WIP that I finally finished). It was a lot of fun and browsing the 
 flickr group

 

is both fun and inspiring! I always enjoy seeing what others are making; there are so many talented people out there! Meg at the Elsie Marley blog hosts the event and     you can check this post for details. In case you are short on ideas or would like a tutorial to jump start your creativity check out this huge KCWC community on Pinterest. Lots and 
lots of ideas for you there!
My usual sewing process includes cutting out a project and then sewing it up. For KCWC I 
like to focus on sewing 

 (as much as 6 kids will allow)

 so I will be trying to get my projects all cut out this week.  I bought the flannel and pattern above back in January and need to 
get the twins some robes made as they have outgrown their older ones. I am hoping I have 
enough fabric to make the youngest two each a  nightgown. That would be quite an accomp-lishment for me to finish 4 items. The robes and gowns will all be Christmas gifts so I will 
be glad to get them done...even though I would rather be making a dress or a cute top. I
 would encourage everyone to join in this challenge...it will be a lot of fun!!