When I first saw the Oliver + S Roller Skate dress and tunic I thought it was a pattern that all my girls would love and I could make many times. The original pattern is fully lined but for this tunic I wanted it as light as possible for summer so it is not lined and the seams are serged.
The armhole is a very curvy piece so I shaved a portion off at the top of the shoulder to make it easier to finish the armhole with lace.
I drafted a peter pan collar then made it with some scraps of eyelet fabric. I created a buttonhole in the center front and used bias tape to form a casing on the inside of the tunic. I was out of elastic so I used some twill ribbon threaded through the casing to tie the waist.
For the button I used a scrap of a bee print I bought at Superbuzzy
a few years back.
I have a feeling this tunic will get a lot of wear this summer; the best part is it cost about $3 to make. I love it when I can make something for less than what I would have to pay at the store. linking up to The Train to Crazy for Make It Wear It Thursday.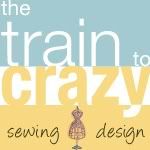 Linking up with Frances Suzanne and their Flip this Pattern series.