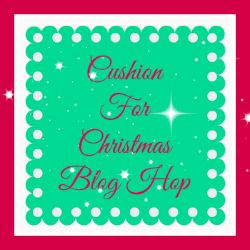 .
Welcome to my stop on the Cushion For Christmas Blog Hop hosted by the lovely Ms. Midge. She has rounded up tons of inspiration provided by herself and her bloggy friends. When she first told me about the hop I was in a Christmas kind of mood. I have been loving all of the metallic accents lately in home decor, fabric (Botanics), paper crafting, and just about everywhere I look so that is where I got my inspiration. On with the tutorial!
First, gather up your supplies. you will need:
3 x 14 1/2" piece of linen
4 1/2 x 14 1/2 piece of linen
7 1/2 x 14 1/2 piece of linen
back pillow pieces: (2) 11 x 14 1/2"
14 1/2" square of fusible fleece or batting
gold fabric paint
stamp (i used a make up sponge)
sponge to apply paint
approximately 30" of trim (optional)
embroidery floss or perl cotton

Take the 4 1/2 x 14 1/2" piece of linen and lay it on a piece of paper or cardboard. Use a
sponge to
apply a thin layer of paint to the stamp. Occasionally stamp the edge of the fabric to give the sense of a repeating pattern. Let dry for a bit then stamp another layer if needed. I stamped 2 layers of paint. Lift piece of fabric off the paper to make sure wet paint is not stuck to the paper and lay stamped fabric on a fresh piece of paper overnight to dry or per manufacturer's instructions.

Once the paint has dried baste trim to edges of stamped panel.
Now you are ready to assemble the pillow top! Sew the 3 inch wide linen piece to the left side of the stamped panel and the 7 1/2" wide linen piece to the right side of the stamped panel. Press seams away from the stamped panel. I had cut my pieces at 2a.m. and managed to cut them an inch too short so I had to add a strip to the bottom. I don't recommend late night sewing but that seems to be the only time I have to sew. You can now fuse the fusible fleece to the pillow top or baste the batting using your preferred method.
I like to add a little running stitch to finish the project up.
Lastly, stitch together the front and back panels and voila, you have a new cushion!
I put my cushion on our window seat with some cushions I made a few years back. All of the cushions have a bit of gold and work together nicely. Now it is your turn!! Midge will be having a linky open on her blog for you to show off your creations beginning this Saturday the 14th Australian time (which is 18 hours ahead of Pacific Standard time). There are prizes up for grabs too and winners will be announced on the 18th! Maybe Christmas will come a little early for you with a winning prize! Here is the blog hop line up:


Sunday 1st December - Ms. Midge
Take a breath……
Saturday 14th December - Round up of Blog Hop and link up YOUR projects!
Wednesday 18th December - Winners Announced!